Dr. Chien-Chih Wang
Department of Industrial Engineering and Management
Ming Chi University of Technology
Taishan District, New Taipei City, 243303, Taiwan
Tel. +886-2-29089899 ext. 3106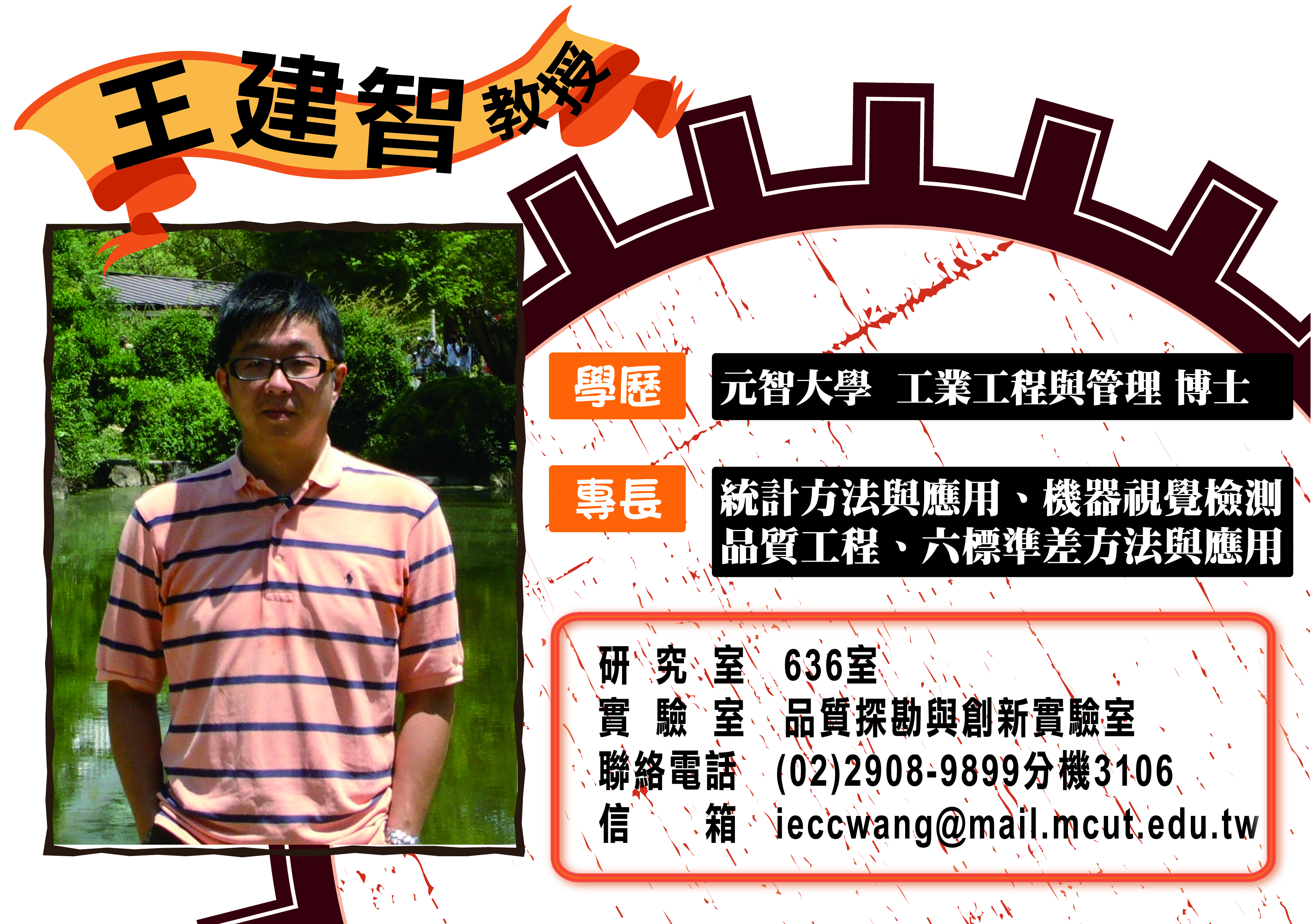 Dr. Chien-Chih Wang is a professor of Industrial Engineering and Management at Ming Chi University of Technology (MCUT), a position he has held since 2001. With an interdisciplinary educational background, he earned his B.S. in Applied Mathematics from National Chung Hsing University in 1992, followed by an M.S. in Statistics from National Cheng Kung University in 1994. He completed his Industrial Engineering and Management doctoral studies at Yuan Ze University in 2001.
Renowned for his expertise in integrating data analytics and intelligent decision-making, Dr. Wang spearheads research in many areas. These span process quality optimization and Lean Six Sigma management to specialized topics like machine vision inspection applications and service systems in healthcare decision-making. Over the years, he has secured research funding from various sources, including the National Science and Technology Council of Taiwan and prominent industry collaborators.
An accomplished academic, Dr. Wang has an extensive publication record, with over 80 articles in peer-reviewed journals. His contributions extend beyond academia; he is a committed member of several prestigious societies, including the Chinese Institute of Industrial Engineers (CIIE), the Chinese Society for Quality (CSQ), and the Chinese Society of Electronic Business Management (EBMS).
Call for Papers in Special Issue: Advances in Smart Industrial Engineering Techniques for Optimizing and Controlling Processes
(SCI Journal)
Guest Editor
Prof. Chien-Chih Wang
Deadline for manuscript submissions: 15 June 2023.
Call for Papers in Special Issue: Machine Learning for Energy and Industrial Datasets Forecasting: Volume II
(SCI Journal)
Guest Editor
Prof. Kuo-Ping Lin, Prof. Chien-Chih Wang, Dr. Chih-Hung Jen
Deadline for manuscript submissions: 31 August 2023.
EDUCATION
Ph.D., Industrial Engineering and Management, Yuan Ze University, Taiwan
M.S., Statistics, National Cheng Kung University, Taiwan
B.S., Applied Mathematics, National Chung Hsing University, Taiwan
EXPERIENCE
2012-Present Professor, Industrial Engineering and Management Department, Ming Chi University of Technology
2021-Present , Topical Advisory Panel Member, Processes (SCI, Published by MDPI)
2022-Present , Editorial Board Members , Computer Vision and Machine Learning
2014-Present Area Editor, IEMS Journal (EI, Published by APIEMS)
2007-Present Area Editor, Journal of Quality (EI, Published by Chinese Society for Quality)
2004-Present Lifetime Member, Chinese Institute of Industrial Engineers
2001-Present Lifetime Member, Chinese Society for Quality
2020-2021, Topics Editorial Board, Processes (SCI, Published by MDPI)
2021-2022 Special Issue Editor, Applied Sciences (SCI)
2015-2017 Director of Office of Institutional Research, Ming Chi University of Technology
2009-2016 Director, Education and Training Committee, Electronic Business Management Society, Taiwan
2004-2012 Associate Professor, Industrial Engineering and Management Department, MCUT
2006-2009 Chairman, Industrial Engineering and Management Department, MCUT
2004-2005 Director, Innovation and Incubation Center, MCUT
2001-2004 Assistant Professor, Industrial Engineering and Management Department, MCUT
1997-2001 Teaching and Research Assistant, Yuan Ze University, Taiwan
1995-1996 Second Lieutenant, Chinese Air Force of Taiwan
1992-1994 Teaching and Research Assistant, National Cheng Kung University, Taiwan
SPECIALTY AREAS
Data analysis and intelligent decision making, Process quality optimization, Lean six sigma management, Machine vision inspection and application, Service system and medical decision making
PROFESSIONAL MEMBERSHIPS AND HONORS
Outstanding Paper Award, The 12th International Conference on Environment and Industrial Innovation (2022)
Outstanding Paper Award, The 3rd IEEE Eurasia Conference on Biomedical Engineering, Healthcare and Sustainability (2021)
Outstanding Paper Award, International Conference on Intelligent Production and Operations (2020)
Outstanding Paper Award, The 17th ANQ Congress (2019)
Quality Award for Individuals, Chinese Society for Quality (2017)
Outstanding Special Talents Award from National Science Council, Taiwan (2010-2019)
Utechzone Machine Vision Prize (2006)
Outstanding Paper Award, Chinese Institute of Industrial Engineers (2005)
Quality Paper Award, Chinese Society for Quality (2002, 2004)
Outstanding Ph.D. Student Award, Yuan Ze University, Taiwan (2001)
Lifetime Member, Chinese Institute of Industrial Engineers
Lifetime Member, Chinese Society for Quality
Lifetime Member, Chinese Society of Electronic Business Management
Member, Chinese Society for Six Sigma
SPONSORED RESEARCH AND PROJECTS
Development and application of intelligent decision techniques for optimizing production times in the abrasive industry (111-2622-E-131 -004), 2022/11/01-2023/1/31
The realization and application in developing a dynamic and intelligent service model for both determined and no order demand forecasting (MOST 110-2221-E-131-027-MY3), 2021/8/01-2024/7/31.
Development of intelligent decision-making model and implementation for quality optimization of Tray process equipment(MOST 110-2622-E-131-008), 2021/06/01-2022/05/31
Development of intelligent detection and pattern recognition models for quality optimization in dyeing and finishing factory: a case study of dyeing cylinder process(MOST 108-2622-E-131-003-CC3), 2019/06/01-2020/05/31
Development and application of evaluation and prognostic health management service system for postural stability using signal data-driven modeling (MOST 107-2221-E-131-026-MY3), 2018/8/01-2021/7/31.
Development and application of circular economy innovation service model in the E-garden platform, (MOST107-2622-E-131-011-CC3), 2018/11/01-2019/10/31.
Development of machine vision inspection and quality monitoring system in process optimization for power transformer (MOST107-2622-E-131-009-CC3), 2018/06/01-2019/05/31.
Big data analysis and intelligence decision support system for fleet management (2/3)(MOST 107-2622-8-131-001-TM1), 2018/2/1-2019/1/31. (co-principal investigator)
Taiwan's e-Scooter Battery BMS Design for Mileage Enhancement and Life Improvement(3/3), (MOST 107-2632-E-131-002), 2018/8/1-2019/7/31. (co-principal investigator)
Development of innovative service model for foreign labor APP platform in Southeast Asia (MOST106-2622-E-131-007-CC3), 2017/11/01-2018/10/31.
Big data analysis and intelligence decision support system for fleet management (1/3)(MOST 106-2622-8-131-001-TM1), 2017/2/1-2018/1/31. (co-principal investigator)
Taiwan's e-Scooter Battery BMS Design for Mileage Enhancement and Life Improvement(2/3), (MOST 106-2632-E-131-003-), 2017/8/1-2018/7/31. (co-principal investigator)
Taiwan's e-Scooter Battery BMS Design for Mileage Enhancement and Life Improvement(1/3), (MOST 105-2632-E-131-003-), 2016/8/1-2017/7/31. (co-principal investigator)
Development and application of multi-dimensional balance capability index (MOST 104-2221-E-131-005-MY3), 2015/8/01-2018/7/31.
Development a Quality Evaluation Model of Prediction and Preventive Maintenance for Multi-Diseases, National Science Council, Taiwan (NSC 101-2221-E-131-030-MY3), 2012/08/01-2015/7/31
Industrial Statistic and Quality Practices, Formosa Ha Tinh Steel Corporation, 2012-2013
Development of the Intelligence Image Enhancement System for Defect Detection, National Science Council, Taiwan, (NSC 99-2628-E-131-025-, NSC 100-2628-E- 131-001-), 2010/08/01-2012/07/31
Process Improvement Using Quality Technology and Data Analysis, Nan-Ya Plastics Corporation, 2010-2011
Build the Planning and Construction of the Guidelines, GCOM Information Service Co., Ltd., 2010
The Development of Non-Template Matching Techniques for Color-Filter Defect Quality Detection Using Machine Vision (I), National Science Council, Taiwan, (NSC 98-2221-E-131-019-), 2009/08/01-2010/07/31
Process Optimization Using Factorial Experimental Design and Response Surface, Bourns, Electronics Co., Ltd., 2006, 2009
SPC and DOE Project, Delta Electronics Industrial Co., Ltd., 2007
Experimental Design for Process Improvement, Delta Electronics, 2007
Development a Wafer and Wafer Die Surface Defect Inspection and Quality Classification System Using Machine Vision, National Science Council, Taiwan, (NSC 95-2221-E- 131-024-MY3), 2006/08/01-2009/07/31
The Analysis Method of Reduce Etching Slight Pit Fraction Nonconforming, National Science Council, Taiwan, (NSC 95-2622-E-131-006-CC3), 2006/11/01-2007/10/31
Study of Diagnostic and Monitoring Technology for DRAM Process Quality, Nan-Ya Technology Corporation, 2006
The Study of Multivariate Variable Control Chart Based on Wavelet Transform and Reconstruct (I), National Science Council, Taiwan, (NSC 94-2213-E-131-009-), 2005/08/01-2006/07/31
The Study of LCD Surface Defects Detection and Classification Based on Automatic Visual Inspection System (II), National Science Council, Taiwan, (NSC 93-2213- E-131-005- ), 2004/08/01-2005/07/31
The Study of LCD Surface Defects Detection and Classification Based on Automatic Visual Inspection System (I), National Science Council, Taiwan, (NSC 92-2213-E -131-011- ), 2003/08/01-2004/07/3,
The Study of Selection Optimal Feature Variables Based on Automatic Visual Inspection System (II), National Science Council, Taiwan, (NSC 91-2213-E-131-005-) , 2002/08/01- 2003/07/31
Real-Time X-Ray Inspection Image Analysis III), National Science Council, Taiwan, (NSC 91-2623-7-131-001- ), 2002/01/01-2002/12/31
The Study of Selection Optimal Feature Variables Based on Automatic Visual Inspection System (I), National Science Council, Taiwan, (NSC 90-2218-E-131-012-), 2001/12/01- 2002/07/31
REFEREED PUBLICATIONS
Chien-Chih Wang and Chi-Hung Kuo (2023) "Detecting dyeing machine entanglement anomalies by using time series image analysis and deep learning techniques for dyeing-finishing process", Advanced Engineering Informatics, Volume 55, January 2023, 101852. (SCI).
Chun-Hua Chien, Amy J. C. Trappey and Chien-Chih Wang (2023) "ARIMA-AdaBoost hybrid approach for product quality prediction in advanced transformer manufacturing," Advanced Engineering Informatics, Volume 57, 102055. (SCI).
Hao Shuang, Chen Zhi, Chien-Chih Wang*, Che-Yu Hung (2023) "Impact of digital service trade barriers and cross-border digital service inputs on economic growth", Sustainability (SCI/SSCI, Corresponding author) (Accepted).
Chien-Chih Wang and Yu-Shan Chang (2023) "Dynamic acceptance sampling strategy based on product quality performance using examples from IC test factory", Mathematics, 11(13), 2872, (SCI)
Chien-Chih Wang, Yi-Ying Yang (2023) " A Machine Learning Approach for Improving Wafer Acceptance Testing Based on an Analysis of Station and Equipment Combinations", Mathematics, 11(7), 1569, (SCI).
Chien-Chih Wang, Ho-Wen Chiang (2023) "A Case Study of Supplier Evaluation Based on Internal and External Metrics Using Decision-Matrix", International Journal of Innovation in Management, Vol. 11, No. 1, 25-30.
Chien-Chih Wang (2022) " Special issue on Recent Advances in Machine Learning and Applications" , Processes, 10(11), 2411. (SCI).
Chien-Chih Wang and Yu-Hsun Li (2022) "Machine-learning-based system for the detection of entanglement in dyeing and finishing processes", Sustainability, 14, 8575. (SCI/SSCI).
Chien-Chih Wang, Hsin-Tzu Chang and Chun-Hua Chien (2022) "Hybrid LSTM-ARMA demand forecasting model based on er-ror compensation for integrated circuit tray manufacturing", Mathematics, 10(13), 2158. (SCI).
Che-Yu Hung, Chien-Chih Wang*, Shi-Woei Lin and Bernard C Jiang (2022) "An Empirical comparison of the sales forecasting performance for plastic tray manufacturing using missing data", Sustainability, 14(4), 2382 (SCI/SSCI, Corresponding author).
Bo Zhu, Si-Qi Tian and Chien-Chih Wang* (2021), "Improving the Sustainability Effectiveness of Traditional Arts and Crafts Using Supply-Demand and Ordered Logistic Regression Techniques in Taiyuan, China", Sustainability, 13(21), 11725 (SCI/SSCI) (Corresponding author).
Chi-Jie Lu, Tian-Shyug Lee, Chien-Chih Wang* and Wei-Jen Chen (2021), "Improving sports outcome prediction process using integrating adaptive weighted features and machine learning techniques", Processes, (SCI, Corresponding author), 9(9), 1563.
Chih-Hung Jen and Chien-Chih Wang* (2021), "Real-Time Process Monitoring Based on Multivariate Control Chart for Anomalies Driven by Frequency Signal via Sound and Electrocardiography Cases,", Processes, 9(9), 1510, (SCI, Corresponding author).
Chien-Chih Wang, Chun-Hua Chien, and Amy J. C. Trappey (2021), "On the application of ARIMA and LSTM to predict order demand based on short lead time and on-time delivery requirements", Processes, 9(7), 1157. (SCI)
Chien-Chih Wang, Chin-Hua Chen and Bernard C Jiang (2021), "Shock absorption characteristics and optimal design of corrugated fiberboard using drop testing", Applied Sciences, 11(13), 5815. (SCI)
K. T. Chen, C. C. Wang*, and C. H. Kuo(2021) " Empirical Study of Foundry Efficiency Improvement Based on Data-Driven Techniques", Processes, 9(7), 1083. (SCI, Corresponding author).
Che-Yu Hung, Bernard C Jiang and Chien-Chih Wang*(2020), "Evaluating machine learning classification using sorted missing percentage technique based on missing data", Applied Sciences, 10(14), 4920. (SCI, Corresponding author)
Chien-Chih Wang, Michael Lin.(2020), "Evaluation of Service Quality Gaps in Traditional Appliance Retail using Cause-and-Effect Matrix and Service Failure-mode-and-Effect Analysis Techniques with Case Studies", TEM Journal, 9(2), 792-797.(ESCI)
C. C. Wang and C. H. Chien (2020) "The study of comparison of time series models: New taipei city air pollution PM2.5 index forecast as an example", Green Science and Technology Journal, 10(1), 91-112.
C. C. Wang and H. C Hsiao (2020) "The practical study of differential evaluation of measurement equipment and compensation value estimation", Green Science and Technology Journal, 10(1), 17-32.
C. C. Wang and K. L. Lo (2019)"Practical study on optimizing the quality of dynamic random-access memory for improving leakage current", Journal of Quality, 26(6), 353-365, (EI).
C. C. Wang and C. Y Li (2019) "Exploring the study of indoor pollution in cognitive differences ", Green Science and Technology Journal, 9(1), 1-16.
C. C. Wang and J. J. Jhu(2019) "On the application of clustering and classification techniques to analyze metabolic syndrome severity distribution area and critical factors", International Journal of Environmental Research and Public Health, 16(9), 1575, 2019 (SSCI/SCI).
C. C. Wang and B. D. Wu (2019) "Classification and Prediction of Wafer Probe Yield in DRAM Manufacturing Using MAHALANOBIS-TAGUCHI System and Neural Network," The South African Journal of Industrial Engineering 30(1), pp. 248-256(SCI).
C. C. Wang and C. T. Liu (2019) "An Empirical study of the machine assembly efficiency improvement based on lean six sigma technique", TEM Journal 8(2), pp. 471-476 (ESCI).
C. C. Wang, C. D. Chang, B. C. Jiang (2019) "Developing a Health Risk Evaluation Method for Triple H," International Journal of Environmental Research and Public Health 16(7), 1168, 2019 (SCI/SSCI).
S. H. Chen, A. H. Chiou, C. C. Wang*"A NMF-based Image Restoration Scheme with Applications to LED Integrated Substrate Defect Detection", IEEE Transactions on Semiconductor Manufacturing, 31(4), 486-494, 2018 (SCI) (Corresponding author)
C. C Wang, X. Yang and M. S. Chen, " Practical evaluation of the relationship between work fatigue and overfatigue in the high-tech employees", Journal Basic & Clinical Pharmacology & Toxicology, 123(S3), 36-37, 2018. (SCI)
C. C. Wang, B. C. Jiang and W. C. Lin," Evaluation of effects of balance training from using wobble board-based exergaming system by MSE and MMSE techniques, "Journal of Ambient Intelligence and Humanized Computing, 9(6), 1745-1754, 2018 (SCI).
C. C. Wang, B. C. Jiang, P. M. Huang, "The relationship between postural stability and lower-limb muscles activity using an entropy-based similarity index," Entropy, 20(5), 320, 2018. (SCI)
C. C. Wang, H. H Chen, "Identifying the Key Factors of Service Quality in a Traditional Chinese Medicine Clinic-based Kano-IPA Model and Case Study", TEM Journal, 7(2), 301-307, 2018 (ESCI).
S. W. Hsu, F. Qing, Chien-Chih Wang*., and H. L. Hsieh, "Evaluation of service quality in Facebook-based group-buying", Electronic Commerce Research and Applications, 28, March-April, 30-36, 2018, (SSCI)(Corresponding author).
C. C. Wang, and W. T Yu, "An Institutional Research of the Relationship between Student 's Academic Performance and Practice Performance in University of Technology," International Journal of e-Education, e-Business, e-Management and e-Learning, 8(4), 240-247, 2018. (EI)
S. W. Hsu, C. C. Wang*, H. L. Hsieh, F. Qing," An Empirical Study of the Social e-Commerce on Facebook Group Buying Services Model in Taiwan," International Journal of e-Education, e-Business, e-Management and e-Learning, 8(3), 130-138, 2018, (EI). (Corresponding author)
I. F. Chen, C. C. Wang*, S. L. Chen, Y. C. Kao, "Selection of Guided Surgery Dental Implant Systems Using Network Data Envelopment Analysis", International Journal of Management, Economics and Social Sciences , 7(S1), 85-108, 2018, (EI) (Corresponding author).
C. C. Wang, Hsieh, H. L, "An Empirical Study of the Social E-Commerce Services Model in Taiwan", Advances in Transdisciplinary Engineering: A Paradigm Shift, 5, 807-812, 2017. DOI:10.3233/978-1-61499-779-5-807.
C. C. Wang, H. H. Chen, "Applying Two-Dimensional Quality Model for Identifying Critical Factors of Service Quality: A Case Study on Traditional Chinese Medicine Clinic in Taiwan ," Asian Journal of Medicine and Health , 8(4), 1-7, 2017. DOI: 10.9734/AJMAH/2017/37403
C. C. Wang and K. Y. Cheng, "Application of Design for Six Sigma in Smartphone Lens Holder Optimation - An Example Study of the U Company," Green Science and Technology Journal, 7(1), 24-36, 2017.
C. C. Wang, L. J. Huang and H. N. Pan, "Risk Evaluation of Drug Safety in the Emergency Treatment Process Using a Modified HFMEA-based Associated Matrix ", Asian Journal of Medicine and Health, 1(2), 1-8, 2016.
C. C. Wang and J. C Chien, "Effect of Drug-Drug Interactions by Association Rule Discovery among the Elderly", Journal of Advances in Medical and Pharmaceutical Sciences, 7(4), 1-8, 2016.
C. C. Wang and C. D. Chang, "Support Vector Machine-based Multi-Scale Entropy of Curves Recognition for Electrocardiogram Data", British Journal of Medicine and Medical Research, 12(12), 1-8, 2015.
C. C. Chu,C. C. Wang* and B. C. Jiang, "Development of an Automatic Image Enhancement Method Visual Inspection System Using Singular Value Decomposition Technique," International Journal of Advanced Manufacturing Technology, Vol. 70, No. 1, pp. 679-688, 2014. (SCI)
C. C, Wang, L. L, Tsai, "The Study of Dental Equipment Assembly Efficiency Improvement Using Innovation Quality Techniques", Green Science&Technology Journal, Vol. 4, No. 1, pp. 41-60, 2014.
C. C. Wang, B. C. Jiang and S. K Wei," The improvement of TFT-LCD quality in the high-temperature operation from customer complaints," Journal of Technology, Vol. 29, No.1, pp. 49-55, 2014. (EI)
C. C. Wang, B. C. Jiang, J. Y. Lin, C. C. Chu, " Machine Vision-based Defect Detection in IC Images Using the Partial Information Correlation Coefficient,"IEEE Transactions on Semiconductor Manufacturing, Vol. 26, No. 3, pp. 378-384 ,2013, (SCI)
C. C. Wang, "A Study of R2R Control Improvement Using Adjust Limit to reduce Frequency of Control," The South African Journal of Industrial Engineering, Vol. 24, No.2, pp. 102-110, 2013 (SCI).
C. C. Wang, "Machine Vision-Aided Quality Decision System for Solder Joints Defect Evaluation," Journal of Applied Mechanics and Materials," Vol. 268-270, pp. 1393-1397, 2013. (EI)
C. C. Wang "A Study of Run-to-Run Control Efficiency for Quality Improvement ",Journal of Applied Mechanics and Materials," Vol. 328, pp. 283-286, 2013. (EI)
C. C. Wang, B. C. Jiang, and H. K. Fan, "The Empirical Study of TFT-LCD Quality Assessment Using Array Electrical Test Inspection Model," Journal of Quality, Vol. 20, No.6, pp. 599-608, 2013, (EI).
C. C. Wang and W. H. Yang, "Using Detrended fluctuation Analysis (DFA) to Analyze Whether Vibratory Insoles Enhance Balance Stability for Elderly Fallers, "Archives of Gerontology and Geriatrics, Vol. 55, pp. 673-676, Nov 2012. (SCI)
C. C. Wang, C. D. Chang, and B. C. Jiang, "Pattern Recognition of Multiscale Entropy Curve for ECG Signal Analysis, Journal of Applied Mechanics and Materials," Vol.195-196, pp. 603-607, Oct 2012. (EI)
C. D. Chang, C. C. Wang, and B. C. Jiang, "Singular Value Decomposition Based Feature Extraction Technique for Physiological Signal Analysis," Journal of Medical Systems, Vol. 36, pp. 1769-1777, Jun 2012. (Corresponding author, SCI)
C. H. Jen, C. C. Wang, B. C. Jiang, Y. H. Chu, and M. S. Chen, "Application of classification techniques on development an early-warning system for chronic illnesses," Expert Systems with Applications, Vol. 39, pp. 8852-8858, Aug 2012. (Corresponding author, SCI)
C. C. Wang, B. C. Jiang, Y. S. Chou, and C. C. Chu, "Multivariate analysis-based image enhancement model for machine vision inspection," International Journal of Production Research, Vol. 49, pp. 2999-3021, 2011. (Corresponding author, SCI)
C. H. Jen, B. C. Jiang, and C. C. Wang, "Integration of run-to-run control schemes and on-line experiment to deal with the changes in semiconducting dynamic processes," International Journal of Production Research, Vol. 49, pp. 5657-5678, 2011. (SCI)
C. D. Chang, C. C. Wang, and B. C. Jiang, "Using data mining techniques for multi-diseases prediction modeling of hypertension and hyperlipidemia by common risk factors," Expert Systems with Applications, Vol. 38, pp. 5507-5513, May 2011. (Corresponding author, SCI)
C. C. Wang and W. M. Wen, " A Wavelet-based variable control procedure for detecting process mean shift," International Journal of Industrial Engineering-Theory Applications and Practice, Vol. 17, pp. 259-268, 2010. (Corresponding author, SCI)
B. C. Jiang, C. C. Wang, H. J. Chen, and C. C. Chu, "Automatic bubble defect inspection for microwave communication substrates using multi-threshold technique based co-occurrence matrix," International Journal of Production Research, Vol. 48, pp. 2361-2371, 2010. (Corresponding author, SCI)
C. C. Wang, B. C. Jiang, M. Y. Wu, and C. H. Jen, "Evaluation of fuzzy neural network run-to-run controller using numerical simulation analysis for SISO process," Expert Systems with Applications, Vol. 36, pp. 12044-12048, Dec 2009. (Corresponding author, SCI)
B. C. Jiang, C. C. Wang, J. Lu, C. H. Jen, and S. K. S. Fan, "Using simulation techniques to determine optimal operational region for multi-responses problems," International Journal of Production Research, Vol. 47, pp. 3219-3230, 2009. (SCI)
B. C. Jiang, C. C. Wang, C. H. Jen, and L. C. Luo, "Combining EWMA Control Chart to Reduce Process Control Frequency for Run-to-Run (R2R)," Journal of Quality, Vol. 16, pp. 233-243, 2009 (EI)
曾國希、王建智,整合型光學膜之設計確認保證,品質月刊,45(4),33-38,2009。(Corresponding author)
C. C. Wang, M. S. Chen, and C. J. Hsu," Consumer relationship management using cluster analysis of high level health examination customer groups as a data mining technique-example of a single medical center in Taipei," Journal of Health Management, Vol. 6, pp.49-60, 2008. (Corresponding author)
M. S. Chen, C. C. Wang, and L. Y. Wang," Applying Decision Tree to Explore Critical Factors in Developing Diabetes among Employees in High-Tech Industry, Journal of Health Management, Vol. 6, 135-146, 2008. (Corresponding author)
B. C. Jiang, C. C. Wang, and W. H. Huang, "Evaluation of a digital camera image applied to PCB inspection," Human Factors and Ergonomics in Manufacturing, Vol. 18, pp. 424-437, Jul-Aug 2008. (SCI)
C. C. Chu, B. C. Jiang, and C. C. Wang, "Modified gamma correction method to enhance ball grid array image for surface defect inspection," International Journal of Production Research, Vol. 46, pp. 2165-2178, Apr 2008. (SCI)
B. C. Jiang, C. C. Wang, and Y. N. Hsu, "Machine vision and background remover-based approach for PCB solder joints inspection," International Journal of Production Research, Vol. 45, pp. 451-464, Jan 2007. (SCI)
江行全、蔡篤銘、王建智,應用機器視覺於液晶螢幕面板表面瑕疵檢測,機械月刊,32(4),78-87,2006。(Corresponding author)
C. C. Wang and B. C. Jiang, "Integral DOE and MANOVA techniques for classification feature selection: using solder joint defects as an example," International Journal of Advanced Manufacturing Technology, Vol. 27, pp. 392-396, Dec 2005. (Corresponding author, SCI)
Jiang, B. C., Wang, C. C, Liu, H. C, "LCD Surface Uniformity Defect Inspection Using ANOVA and EWMA Techniques", International Journal of Production Research, Vol.43, pp.67-80, 2005. (SCI)
Wang. C. C., Jiang, B. C., Liu, C. W and Chen, P. L (2004) "The Research of PCB Impedance Adjustment Model – A Case Study of Eight-Layer Board," Journal of Quality, Vol. 11, pp. 85-96. (EI)
Wang, C. C and Jiang, B. C (2004), "Design Feature Selection Index based on Overlap Region Applied to PCB Defects Classification," Image and Pattern, Vol.10, pp. 40-51.
Jiang, B. C., Wang, C. C and Chen, P. L (2004) "Logistic Regression Tree Applied to Classify PCB Golden Finger Defects," International Journal of Advanced Manufacturing Technology, Vol. 24, pp. 496-502. (SCI)
Jaing, B. C., Wang, C. C., Liao, K. D and Lee, S. H (2004), "Study of Dynamic X-Ray Image Enhancement and Defects Classification", Journal of the Chinese Institute of Industrial Engineering, Vol. 21, pp. 409-421. (EI)
Wang, C. C, Jiang, B. C and Lee, S. X (2002) "Applied SPC, DOE and RSM Techniques to Reduce the Defects of Aluminum Felly - A Case Study of Die Casting Process," Journal of Quality, Vol. 9, pp. 1-17. (EI)
Jiang, B. C., Tasi, S. L and Wang, C. C (2002) "Machine-Vision Based Grey Relational Theory Applied to IC Marking Inspection," IEEE Transactions on Semiconductor Manufacturing Vol. 15, pp. 531-539. (SCI)
Fan, S. k., Jiang, B. C., Jen, C. H and Wang, C. C (2002) "SISO Run-to-Run Feedback Controller using Triple EWMA Smoothing for Semiconductor Manufacturing Processes," International Journal of Production Research, Vol. 40, pp. 3093-3120. (SCI).
Wang, C. C and Jiang, B. C (2001) "PCB Solder Joints Defects Detection and Classification Using Machine Vision," International Journal of Industrial Engineering. Vol. 8, pp. 359-368. (SCI)
Jiang, B. C, Wang, Y. M and Wang, C. C (2001) "Bootstrap Sampling Techniques Applied to PCB Golden Fingers Defect Classification Study," International Journal of Production Research, Vol. 39, pp. 2215-2230. (SCI)
Jiang, B. C., Yu, C. L and Wang, C. C (2001) "The Evaluation of Artwork Dimensional Variance for PCB Manufacturing Process," Journal of Quality, Vol. 8, pp. 85-105. (EI)
Jiang, B. C., Lin, T. T and Wang, C. C (1999) "A Study of Using Machine Vision System for Surface Defects Classification," Journal of the Chinese Institute of Industrial Engineering, Vol. 16, pp. 443-453. (EI)